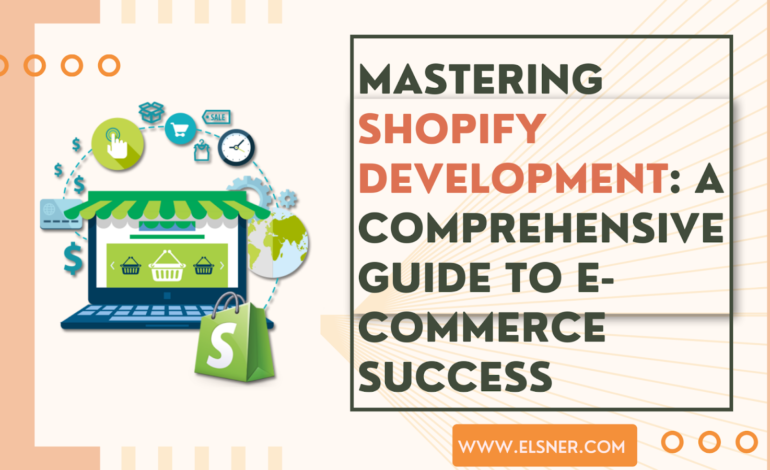 Mastering Shopify Development: A Comprehensive Guide to E-Commerce Success
Ecommerce is a new primary source for customers to do shopping. In today's fast-changing world, most customers prefer to shop online.
It's time for merchants and retailers to set up their online stores to stay competitive.
However, many people find it difficult to set up and manage their online store.
This is where Shopify comes in as an all-in-one solution for merchants and retailers. It offers everything from setting up an online store, inventory management, and automated shipping to worldwide payment support.
If you're planning to set up your online store on Shopify but not sure whether it's a good idea or not then keep reading.
Here, we will explore everything about Shopify, its features, benefits, steps to build an online store with Shopify development services, and some useful tips for your e-commerce success.
What is Shopify?
Shopify is an ecommerce platform that allows merchants, retailers or individuals to build, manage, and grow their online store on Shopify using pre-built themes and tools. So that owners can sell their products/services globally on the most robust and user-friendly platform. It's a beginner-friendly platform, so you don't require any technical expertise.
Shopify has everything you need to run your online store, from products/services listing, pre-built templates, inventory management, automated order fulfillment, payment integration and more in one place.
Some Key Features of Shopify
Here are some key features of Shopify platform:
1. Pre-built Templates
Hundreds of pre-built templates are available for your online store. You can pick anyone as per your business needs and use a drag-and-drop builder to customize your store. It allows you to customize the colors, layout, content, and more to give your online store a personalized look and feel.
2. Order and Inventory Management
It becomes easier to manage your orders and inventory on Shopify. It will keep you updated with demand/supply of stocks, keep inventory up-to-date, and automate the Shipping process to run your online store smoothly and efficiently.
3. Mobile Optimization
It's a world where billions of people are using smartphones and 40% of them are using smartphones to shop online. It clearly shows a major amount of traffic coming from smartphones. Shopify will help you to keep your store mobile optimized so that your online store runs on any device and provides a friendly user experience.
4. Payment Gateways
Shopify offers various payment gateway integrations so that customers can pay as per their suitable payment mode from anywhere. Some of the popular payment gateways you must have like PayPal, Stripe, Credit/Debit card, and Shopify payments.
5. Analytical and Reporting Tools
Shopify comes with an all-in-one Dashboard that allows you to keep track of overall store performance, sales, orders, growth, customer interaction and more. It helps to make informed decisions in your business and make improvements for better results.
6. Seamless Checkout Process
Shopify offers a seamless Checkout process that you can use to improve your customer's buying experience. It increases the conversion rate, drives more sales and provides a friendly customer experience.
Benefits of Using Shopify Ecommerce Platform
1. Easy to Use
It is very easy to use Shopify platform to build your online store. It comes with a drag-and-drop builder, pre-built themes and one click installation that makes the process easier.
2. Fully Customizable Themes
Many pre-built themes and templates are available that you can easily customize as per your brand look and feel. It's so easy to customize any theme with full customization options.
3. Excellent Customer Support
Shopify is known for the excellent customer support 24/7 via phone, live chat and email. It provides regular support to resolve customer's queries and keep your store running smoothly.
4. Third-party Integrations
You can easily integrate third-party apps and increase the functionalities of your online store.
5. Fast Loading Speed
Shopify helps you to keep your online store speed high and load pages faster.
How to Build Your Shopify Store?
Here's the step-by-step process to build your Shopify store:
1. Setting Up a Shopify Account
Set up your Shopify account with basic details like email id, store name and password. Follow all the given instructions carefully and choose a suitable Shopify plan as per your needs and budget.
2. Choose your Domain Name
Once you've set up your Shopify account, you need to choose a domain name for your online store. Whether you need to register a new domain name or if you've already, you can link with Shopify. It's a business name so make sure you're choosing the right domain name that reflects your business domain.
3. Choose your store theme and customize
Shopify offers hundreds of pre-built themes, you can choose the most relevant theme that matches your business and customize it accordingly. You can make personalized changes in layout, colors, elements, and overall look. It's better to consider Shopify development services to let the experts build your Shopify store more professionally.
4. Add products to your Shopify store
Once your Shopify store is ready, you can list your products in Shopify and set up your inventory. Make sure you're adding complete details about each product including product title, description, high-quality images, pricing, features, and benefits in a simple manner. It's very important to list your products with complete details so that customers can make informed buying decisions.
5. Payment and Shipping Integration
You can integrate numerous payment gateways in your Shopify store including PayPal, Stripe, Shopify Payments, Credit or Debit options. So that customers can make payments with their suitable payment modes.
6. Launch your store
It's time to launch your Shopify store online and let the world know about your store to make purchases and grow your business globally. Once your user-friendly store is ready, products are listed and payment integration is done then you're good to go in the market.
7. Implement marketing and promotional strategies
Shopify comes with marketing and promotion tools. You can use these tools to automate your marketing campaigns and drive sales.
Wrapping Up!
Shopify is the best ecommerce platform to build, manage and grow your online store. With its advanced features, user-friendly interface, and prebuilt resources you can run a successful ecommerce business. Now it's your turn to hire Shopify developer and set up your fully-featured Shopify store.