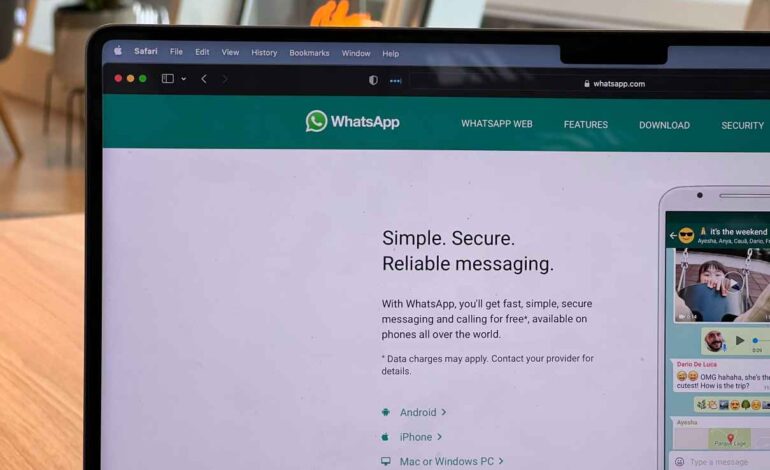 2 Efficient Methods to Retrieve the Deleted WhatsApp Messages
Messaging apps have gained immense popularity over the years. Various platforms have become integral to everyday communication. WhatsApp stands out as one of the most popular digital communication tools worldwide. Yet, accidental deletion or loss of essential conversations can often cause trouble.
Keep reading to learn how to restore deleted WhatsApp messages without backup. Learn techniques involving local chat backups and Wondershare MobileTrans to retrieve your precious chats.
Part 1: How to Restore the Deleted and Old Conversations with Google Drive
Do you want to know how to see deleted WhatsApp messages on your device? One of the easiest ways to do this is via your Google Drive backup. This works if you regularly back up your WhatsApp to your storage drive.
Before using this method, ensure that your WhatsApp is backed up. It can only work if a recent backup was made to your Drive. You will also need the same Google account and phone number to create the backup. If you fulfill these requirements, follow the steps given below:
Step 1: Start by uninstalling WhatsApp on your device. Then download it again and log into WhatsApp using the previously used phone number.
Step 2: WhatsApp will allow you to restore your messages and media from Google Drive if a recent backup was made. Click the "Restore" button to retrieve all the data from the recent backup on your WhatsApp.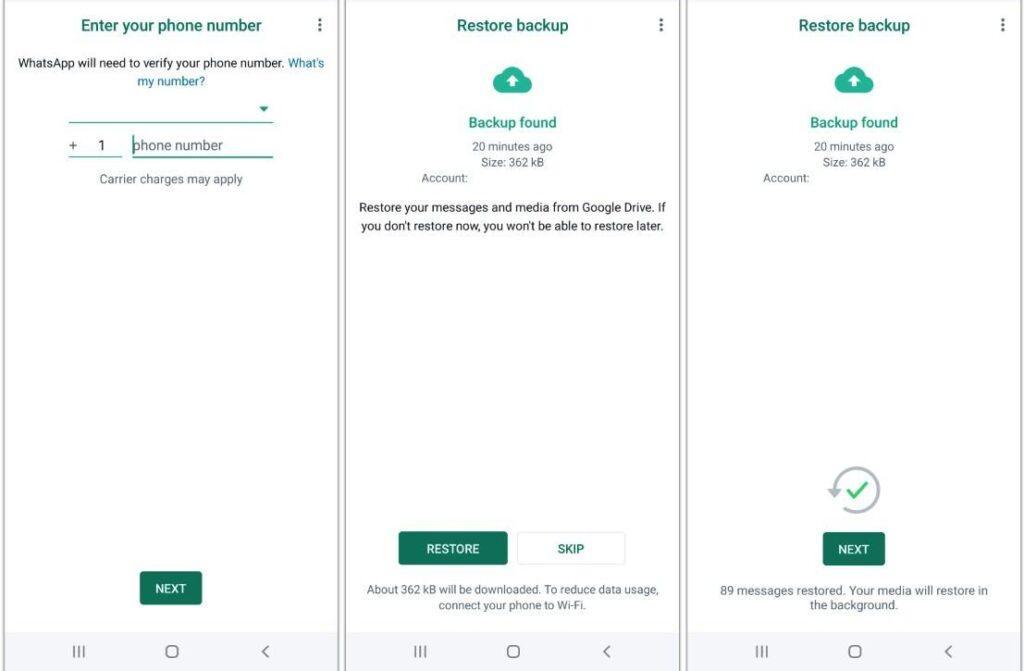 Part 2: How to Get the Deleted, Lost, or Old Chats with Wondershare MobileTrans
How do you restore deleted WhatsApp messages without backup? Local methods like Google Drive are usually preferred. But they do not always work, especially if the messages aren't backed up. Try a third-party tool such as MobileTrans to avoid losing essential conversations forever.
Powered by Wondershare, it is a powerful and versatile tool. It can work as an efficient WhatsApp data recovery software. This platform's resourceful backup and restore options allow users to create secure data backups. You can restore them anytime on your device. You can use the tool and never lose your precious conversations again. Quite effective!
Key Features of Wondershare MobileTrans
Recover deleted WhatsApp messages on Android without backup.
Wondershare MobileTrans works on multiple platforms, including Windows and Mac. It also supports WhatsApp backup from any Android or iOS device.
You can encrypt your backups using passwords to secure sensitive data and prevent others from accessing it.
The platform ensures that the integrity of the original data on your phone is maintained. No overwrites occur during the backup and restore.
Step-by-Step Guide on How to Restore Deleted WhatsApp Messages using Wondershare MobileTrans
Here is the step-by-step guide on how to restore WhatsApp messages without backup using the in-focus toolkit:
Step 1: Open the WhatsApp Data Recovery Tool
Start by installing and launching Wondershare MobileTrans on your device. From the home page, go to the "Backup & Restore" section. Then hit "Deleted WhatsApp Data Restore." Now use a data cable to attach your Android device to your computer.
Open WhatsApp and follow the instructions present on the screen. Then, grant access to install WhatsApp on your device. Also, enable access to storage space and hit "Next" to proceed.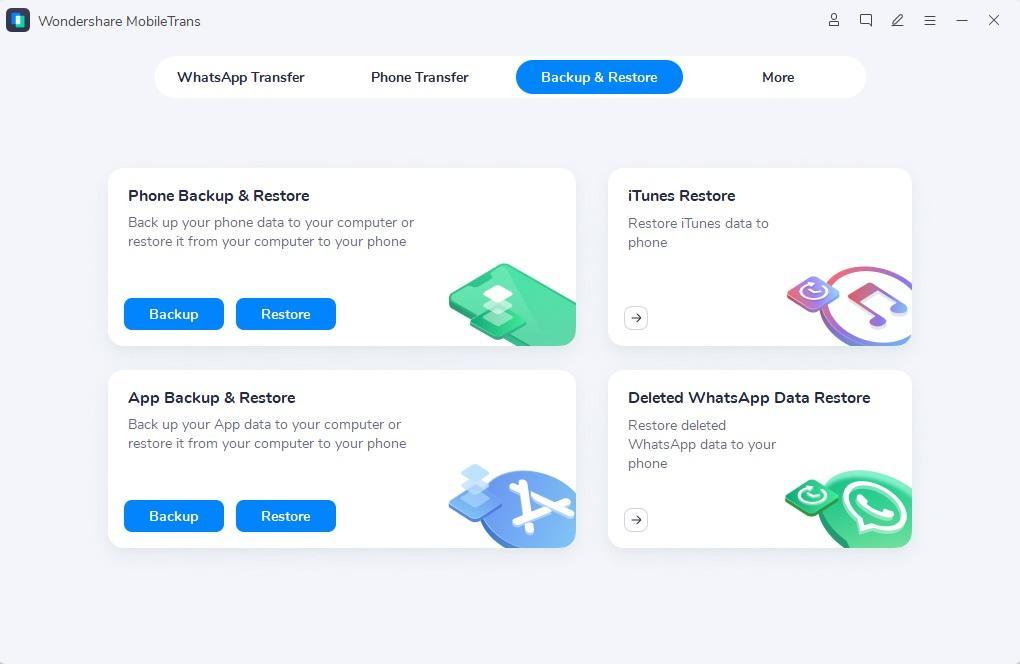 Step 2: Restore WhatsApp Messages Using MobileTrans Backup
Log into your WhatsApp account using your previous phone number. Follow the on-screen instructions to restore backup files and press "Next." The tool will now list all the deleted messages found on your device. Select the chats you wish to restore and hit the "Restore to Device" button.
Part 3: An In-Depth Comparison between Google Drive and MobileTrans for Managing WhatsApp
Still not sure which method to choose for WhatsApp data recovery? Here is a detailed comparison between Google Drive and MobileTrans to help you make an educated choice. Let's look into the details:
| | | |
| --- | --- | --- |
| Metrics | Google Drive | Wondershare MobileTrans |
| Free Storage | 15GB | Unlimited |
| Restore Data as PDF | No | Yes |
| Restore Data as HTML | No | Yes |
| Selective Data Restoration | No | Yes |
| Recovery Speed | Medium | Highest |
| Effectiveness | Medium | Highest |
| Restore Data to iPhone | No | Yes |
Part 4: Best Practices for Data Recovery
You can choose to recover deleted WhatsApp messages without backup or with storage drives. However, having a few tips in your hands is always a good idea. Here are a few practices you should adopt as part of your routine for optimal data recovery:
1. Turning Off Automatic Syncing to Prevent Data Overwrite
You can turn off automatic syncing on your WhatsApp. This helps to avoid data overwrite and preserve the integrity of your information. Automatic syncing can replace the deleted data with newer content. This can make recovery more challenging or even impossible.
By temporarily disabling syncing, you can create a safe environment for the recovery process. This increases your chances of retrieving deleted messages and media files.
2. Ensuring the Device is in Airplane Mode During Recovery Attempts
It is advisable to put your device in Airplane mode before starting recovery attempts. Activating Airplane mode disables the device's connectivity to cellular networks and Wi-Fi. This prevents automatic data synchronization or updates that could interfere with recovery.
You can create a controlled environment by keeping your device in Airplane mode. It reduces the risk of data loss and increases the chances of retrieving deleted information, such as WhatsApp messages, without external interference. This simple precaution can enhance the effectiveness of the process. You can thus safeguard your valuable data during recovery efforts.
Conclusion
The ability to recover deleted WhatsApp messages is a valuable lesson. It can be recognized by those who have lost important conversations. You can choose from built-in backups or the advanced capabilities of third-party software. Use the methods discussed in this article to rescue your chats from being lost and create a secure digital experience on WhatsApp.